If you have ever stood in the light bulb aisle of your local DIY store wondering which of the myriad of options was the right light bulb for your fitting, you are not alone. 
As your trusted local electrician in Bradford, I am often asked by customers how to go about choosing the right light bulb. To help make choosing the right light bulb an easier task, I have put together this simple guide. 
Light Bulb Packaging
The first thing to do is take a look at some light bulb packaging. Below you will see a sample package I have created. Now, it's worth noting that all packaging is slightly different in layout. However, the information you need to choose the right light bulb for your Bradford home will be displayed on all brands in a fairly standard fashion. Here comes my top tip to making this process simpler – take the old bulb and it's packaging with you when you go to replace it. That way you don't have to rely on memory or luck to get it right.
You can see here that my light bulb packaging has a bamboozling amount of numbers and codes to look at. I am going to break it down, code by code to help make this clearer.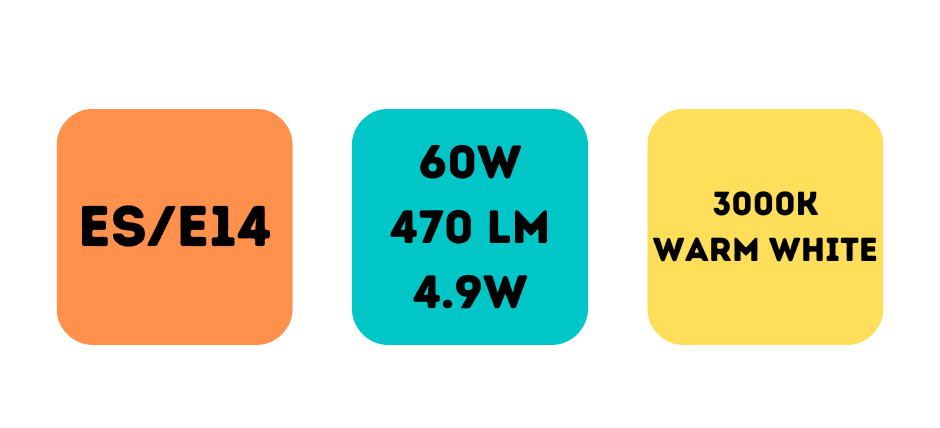 Choosing the right cap fitting for your light bulb
One of the first things to check when choosing light bulbs for your Bradford home is the style of cap fitting – that's the part that connects to the light fitting itself. Light bulbs come in several different cap fitting styles, and this will be clearly displayed on the packaging. You are looking for a code beginning with a letter. On our example package the code is found in the orange box and is ES/E14. If you buy the wrong cap style size; it won't fit into your light fitting.
Choosing the right brightness for your light bulb
This is the part that most people struggle with, particularly since the switch to LED light bulbs. Previously you would choose your bulb based on brightness expressed in watts (W) but this actually measures the energy consumption of the light bulb, not it's output of light. LED bulbs use far less energy (watts) to produce light and so now packaging has lumens (LM) as a true measure of brightness and shows the old equivalent wattage (W) for comparison. It will also show the actual wattage of the light bulb.
On our example packaging the blue box shows all three of these figures. The larger number expressed in watts, 60W, is the old equivalent standard bulb output. The smaller number expressed in watts, 4.9W, is the bulbs actual power consumption. The last figure, 470LM, is the lumens or brightness of light. So, which one should you be looking at to choose your light bulb? The answer is that you can use all three if you are matching like for like. So, if you know your light fitting uses a 60W bulb in old terms you can look for that equivalent wattage on the packaging. If you've made the leap to lumens, select your brightness based on that. Just be careful not to confuse the two! 
Choosing the right colour temperature for your light bulb
With LED lighting you can customise the colour profile of your lighting. This colour temperature is expressed in Kelvins (k), and you can see it in our yellow box. A 3000K light bulb like ours produces warm light making it relaxing and cosy, perfect for living areas and bedrooms. A 4000K light bulb produces a cooler, more neutral light and these are well suited to bathrooms, kitchens, and offices. Colour temperature is a matter of personal choice, so choose the one that best suits your family.
I hope this guide to choosing the right light bulb for your Bradford home helps make your next light bulb shopping trip an easier affair. If you need help or advice with anything electrical, contact us at Quality Electrician. Based in Birkenshaw, Bradford we are your friendly, local and fully qualified electrician.
Read more articles